ChromaLok
Color Matched Adhesive Systems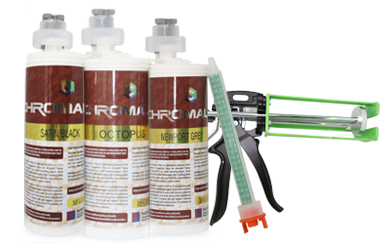 ChromaLok is a line of high quality color matched industrial surfacing adhesives specially designed for the surfacing industry. These adhesive are available in a wide range of colors and specifically designed for laminating, V-grooving, mitering, integral mounted sinks and bowls.
ChromaLok Adhesive are supplied in a side-by-side cartridge system that mixes and dispenses the correct amount of adhesive, providing a perfect mix for every application. This dispending system provides consistent result, invisible seams, high overleap shear strength and a good balance of properties.
Advantages of Industrial Surfacing Adhesives
Adhesive supplied in 2-part cartridge system for consistent application
No hand mixing is required
Reduce Waste
Excellent UV stability, resistance properties and durability
Matches the gloss of surrounding material after polishing
Low odor formulation
Fast cure speed with excellent flexibility
Applications of Color Matched Adhesives
Fabrication of laminations and seams for:
Solid Surfaces : Corian, HiMacs, Staron, Avonite, etc.
Quartz Surfacing : Silestone, Caesarstone, Italstone, Okite, etc.
Natural Stone : Granite, Soapstone, etc.
Specifications of Countertop and Tabletop Adhesives

Resin Appearance
Clear or colored liquid
Activator Appearance
Clear or White Liquid
Mix Ratio (Resin to Activator)
10:1 by Volume
Viscosity (Resin)
40,000 – 100,000 cps
Viscosity (Activator)
18,000 - 25,000 cps
Working Time
10 - 15 minutes
Fixture Time
20 - 30 minutes
Recommended Adhesive Thickness
0.002 to 0.040 inches
Over-lap shear strength (Solid Surface)
4,000 – 6,000 psi
Over-lap shear strength (Stone)
3,000 - 5,000 psi
Service Temperature
-30 to 250 F
Available Package
250 ml and 500 ml cartridge